PERSONAL:
Born in Philadelphia, PA to parents Leonard and Loretta Greene. Kevin presently lives in Upper Marlboro, MD. with wife Monica, daughters Kourtney and Kaylyn and son Kevin "KJ" Jr. Graduated from SU with a Degree in Sociology. Kevin loves having fun with his family, booking fishing charters, smoking a cigar occasionally and having a bourbon occasionally. He is a huge Philadelphia Eagles Fan.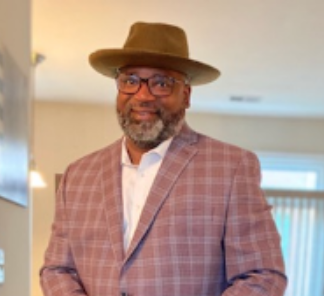 HIGH SCHOOL:
Kevin was a three-letter sport star for the Bishop McDevitt High School. He was captain of the Lancer's Football Team and recognized as a All State and All Catholic player for Coach Pat Manzi. He also lettered in baseball as a catcher and track, where he set a school record in the 880 and the mile relay. During his high school football career, he set the school record for the most TD receptions. Kevin is presently serving on the board of directors at Bishop McDevitt High School.
SYRACUSE UNIVERSITY:
Kevin was a two-year letter winner at SU playing both Tailback and Fullback. Kevin developed into a very valuable asset for the Special Teams. In his Junior year, he was named Special Teams player of the week against West Virginia. At 6'1" 216 lbs., Kevin possessed good speed and hands. Kevin averaged 4.8 yds per carry and has 5 pass receptions during his career at SU. Kevin was a scholar athlete at SU.
AFTER FOOTBALL:
In the Loop relates to experiences of former SU Football players after football. Kevin Greene is a great example of a Football Brother who has been very successful after Football. When we discussed his role as an exemplary Special Teams Player, and his mindset for that position, he mentioned that as a back up Fullback, the coaches wanted him to put on weight for that position, but he could not gain the weight they wanted. So, he saw the opportunity to be on the Special Teams as a personal means of getting the job done for his fellow teammates. Kevin said that he gave 100% every time he was on the field, knowing how Special Teams play is so important to the potential of winning or losing the game. This concern for giving 100% to the success of his team, carried on to his professional work experiences. Kevin is an astute, result oriented executive with over 20 successful years of progressive sales and management experience with world-class organizations in the Foodservice and Consumer Goods industries. A business thought leader, he possesses strong strategic planning that produces outcomes that align and support the organization's vision and goals. Kevin's leadership qualities have allowed him to assume successful management roles for well known companies such as Frito Lay, Coca Cola, Sara Lee, HJ Heinz, Sargento Foods, and others. Kevin is now National Sales Manager for Saputo Dairy Foods. In all these companies he has had a management position. Through his initiatives he helped develop and implement successful results, oriented strategies and marketing plans that helped companies to grow branded sales and achieve market shares in their industry. Kevin has the wonderful ability to provide leadership and ideas to build enduring business relationships for the companies he has worked for. In his roles, he has managed client relationships with many regional grocery stores helping them to expand market delivery while controlling product shrinkage. His business plans have brought much success in volume goals, marketing promotions, expense control, sales costs and much more. As a Football Brother, Kevin represents SU and the SU Football Program as a Distinguished Leader in the business world and a great representative of his beloved Alma Mater SU.
PLEASE VISIT OUR WEBSITE WWW.SYRACUSEFOOTBALLCLUB.COM FOR MORE INFORMATION ON IN THE LOOP!