PERSONAL:
Born in Erie, PA. to parents Ed and Muriel. He currently lives in Naples, Florida with his wife Barbara. Rusty and Barbara were married on St. Patrick's Day 42 years ago. They have a son, Kit, an SU Grad who lives in Brooklyn, NY. Rusty has three sisters and three brothers Robert, Bill (played Center and TE for Rutgers), and Tom (who was a LB for Delaware). Rusty received a BS in Public Relations from the SU Newhouse School. A big Buffalo Bills fan, Rusty enjoys golf, scuba diving, fine dining and fine wine.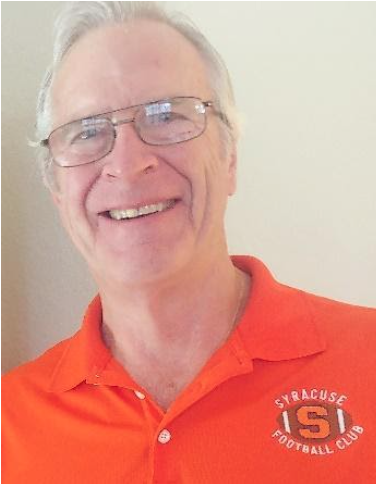 HIGH SCHOOL:
Rusty graduated from the Union Endicott Tigers in 1970, where he played Center and Defensive Tackle for Coach Fran Angeline. He also lettered in wrestling under Coach Frank Sorochinsky in the 185 lb. weight class. Rusty was recruited by Coach Jim Shreve. He chose Syracuse over Temple, Pittsburgh and Minnesota.
SYRACUSE UNIVERSITY:
Rusty played for Ben Schwartzwalder and Line Coach Rocco Pirro from 1970-73. He played Center and Inside Tackle (unbalanced line). He was used as a good utility player because he could play any line position. He suffered a shoulder separation and several concussions at SU limiting his playing time. Rusty said that "he was taught a lot about the value of hard work and that although he didn't play as much as he would have liked, his work ethic was his way of contributing to the potential success of his team." Rusty commented that "despite disappointing seasons his time at SU and playing football at SU prepared him for a successful journey later in life."
PRO FOOTBALL:
At the end of his senior year at SU, Rusty went to the Buffalo Bills camp as a free agent. SU great Center Jim Ringo was the Line Coach at that time. That year the NFL had a brief walkout which was an opportunity and Rusty was given a contract. He played different line positions and started against the St. Louis Cardinals in the Hall of Fame Game. He then had starts against the Packers and the Chiefs where he was game captain. With the return of the veterans his playing time diminished and he was waived in the final cut, but always relished the brief opportunity he had to play Pro Football. Rusty also played briefly with the Wilkes-Barre Bullets, a continental league team and then retired from football.
AFTER FOOTBALL:
After football, Rusty went back to SU and tapped into their resources to find a career. He joined Procter & Gamble in 1975, working in sales, marketing and licensing assignments as he increased his areas of responsibility. In 1999, he was appointed VP of Sales and Distribution for P&G's Millstone Coffee Subsidiary. These roles enabled him to develop skills in leadership and business development across diverse customers and methods of distribution. Rusty retired from P&G in 2003. One year later he joined a privately held business as the National Director of Strategic Channels for the Sunny Delight Beverages Company. Over the next 10 years his sales organization enjoyed notable success developing new business and expanding the reach of Sunny D and other brands throughout the United States, Mexico and the Caribbean. He retired in 2014 and is now an independent contractor specializing in sales strategy and execution… Russ Mills Consulting.
VOLUNTEER WORK:
A kind, giving man who loves his Alma Mater, Rusty and his wife Barbara endowed a scholarship which is granted each year to an SU football player. It is his way of giving back in part for all that he was given by SU and SU Football. Rusty is on the SFC Board of Directors and is working with others to develop career and mentoring programs for former players helping them realize success in a career of their choice. Rusty is a volunteer for SCORE in Naples and with Champions for Learning and is on his community association board. These involvements are further ways of giving back for the success he has had in life. Champions for Learning is an organization where Rusty and others mentor high potential students with very limited resources on success in life, work, and school starting in eighth grade up through their senior year. This culminates in the young person receiving a 2-year free college scholarship. Rusty also coaches these kids on financial aid programs, career days, review of personal statements, college applications, etc. This is a wonderful example of a former SU Football Player who gladly helps others succeed. His contribution to SCORE is to lend his experience providing confidential business advice to small businesses in need.
POST NOTE:
Rusty along with the other former SU Football players who have been interviewed for "In the Loop" articles in the SFC website, are passional, results oriented men who all "give back" in mind, body and spirit to help their fellow football brothers and all those they touch in life to be successful in their dreams.
PLEASE VISIT OUR WEBSITE WWW.SYRACUSEFOOTBALLCLUB.COM FOR MORE INFORMATION ON IN THE LOOP!