PERSONAL:
Marty was born in Edicott, NY and raised in Elmira, NY. He is the son of Bob and Betty Chalk. He presently has a home in Horseheads, NY and Liverpool, NY with his bride of 8 years (In May) Sandee. They have three daughters. Jenifer, finishing up her doctorite in Physical Therapy, Melissa who is a Nurse Practitioner in St. Petersburg FL, and Danielle, who is in the banking industry. Marty received dual degrees at SU in Marketing and Human Resources in the SU School of Management in 1985.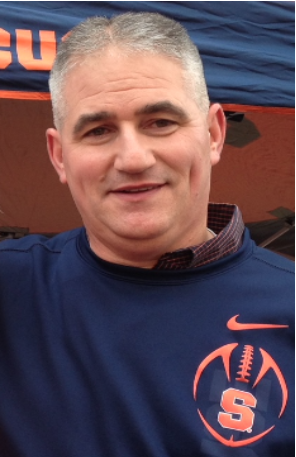 HIGH SCHOOL:
Marty was a three sport athlete at Elmira Free Academy. He played DT and TE for his football coach Dick Senko. He also wrestled and participated in track in the shot put, discus, 220 sprint and he ran the last leg of the 880 relay. Because of injuries received in wrestling (cracked ribs) and a pulled hamstring in track, Marty decided to concentrate on football and weight training to prepare for a college career after his junior year in high school. His determination to work hard at weight training helped him to bench press 405 lbs. and squat 630 lbs. Marty was recruited by 78 schools with Syracuse, Penn State and Wake Forest being his favorites. He was recruited at SU by Coach Tom Coughlin. SU initially wanted him on defense as a LB and Offense as a TE. When discussing which position with Coach Mac, it was decided that Coach Mac wanted him to play TE. Marty decided on going to SU because they were just opening the Dome, just building a new school of management, which was his major, loved Coach Coughlin and Coach Mac, and he wanted to be closed to home so his parents could come to the games. Marty's parents only missed one game in his career at SU. Marty was captain of all three sports teams he played on in high school. He received many awards for his high caliber of football play including; 1st team all NYS, Chicago Tribune All American Team, All Southern Tier Conference and several other High School All American Teams. He mentioned that his High School Principal and Vice Principal were SU grads and were very happy at his choice of SU. Marty won the Ernie Davis Award his senior year honoring the top football player in his area.
SYRACUSE UNIVERSITY:
Marty played TE at SU and was captain of the '84 SU Team. In his career at SU, he received 40 catches for 508 yards and 2 touchdowns. He was a 4 year letter winner at SU. He blew his knee out in his junior year and was red shirted and given a fifth year. Marty was a part of the team that beat #1 Nebraska in the Dome in 1984, regarded as one of the SU Football programs all time wins. About the Nebraska game, he mentioned that his teammates did not want to hear the next day after the game that they played a good game, they wanted to hear that they played a good game and WON the game! He and the other 3 co-captains did everything they could to rally the team and the results was a huge win! Unfortunately SU did not participate in any bowl games during Marty's SU football career. Marty was the #3 receiving TE in SU History.
PRO FOOTBALL:
Marty went to the NY Giants mini camp and although he did well at the camp, the Giants had two veterans returning and one drafted and they did not offer him a free agent contract.
AFTER FOOTBALL:
In the mid 80's after Marty retired from football, he joined his father Bob and brother Jeff to continue growing a company that his father bought from the Estate of the original owner of Dura-Bilt products, Inc. His dad worked in different capacities for 30 years until he passed away. Marty and his brother Jeff then became equal partners in the company. In recent years, Marty bought out Jeff's ownership and is now sole owner. Dura-Bilt has been in the Chalk family for 46 years and they have an 112,000 sq. ft. facility in North Central PA, manufacturing aluminum patio awnings and sunrooms. The Home improvement product line includes all-season sun rooms, three season sun rooms, screen rooms, patio rooms, and much more. For more information on these high quality sun room products, visit their website at www.durabilt.com.
COMMUNITY SERVICE:
President of Elmira Small Fry Sports (football, baseball, basketball), which provides fun, safe competitive sports for young athletes teaching them new skills in their chosen sport.
President of Chemung County Sports Hall of Fame which recognizes those athletes, coaches and contributors who have made significant contributions to athletics in Chemung County.
Board of Directors of Local Red Cross for 12 years, he was also chairman and post chairman of the board, participant in the committee on health and safety for manufacturing (first aid, cpr etc.).
Committee Member of the Ernie Davis Community Center (each year the committee offers a $15,000 scholarship in Ernie's name to a student athlete in schools located in Elmira Area. Also, the committee oversees the Ernie Davis Memorial Statue, maintaining the statue and the area around it.) Marty mentioned that this volunteer work as a committee member of the Ernie Davis Memorial is very dear to his heart as it combines his home of Elmira, with the SU Football community, and the outstanding Athlete Ernie Davis, who won the Heisman Trophy and many other awards at SU.
IN CONCLUSION:
Marty is another strong example of an SU Football player enjoying success after football. He loves SU Football and you can see him at most all of the social and game gatherings. Thank you Marty for using your skills found at SU to help you become a successful businessman.
PLEASE VISIT OUR WEBSITE WWW.SYRACUSEFOOTBALLCLUB.COM FOR MORE INFORMATION ON IN THE LOOP!