PERSONAL:
Roger was born in Suffern, NY. He is the son of Jack and Joan Remo and currently lives in Ramsey, NJ with his wife Wendy. Roger and Wendy met 11 years ago and have been married now for more than five years. They have five children between them. Roger has two daughters—Jessica and Hannah—and a son, Kyle. Jessica lives in the Austin area and works in advertising. She and her husband Lincoln (who played football at the Citadel) are pregnant, and due in Spring 2022 with Roger's first grandchild.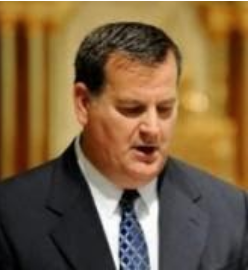 Hannah lives in Hawaii and works in sales, for a digital healthcare start-up. Roger's son, Kyle, is also currently in sales in the shipping industry. Kyle was an excellent athlete in high school. Initially, not interested in going on with his football career, he changed his mind and became a successful walk-on player for Arizona State. Wendy also has two daughters – Nicole who lives in NYC and works at Shutterstock, and Kelley, who resides in LA and is a special education teacher. Roger has an older sister Sandie who resides outside of Philadelphia, and a brother Jeff, who was a great athlete, and now a great coach at Mahwah High School. Roger and his brother Jeff are both in the Mahwah Hall of Fame. Roger has a BS in marketing from SU – 1986.
HIGH SCHOOL:
Roger was a 3-sport athlete at Mahwah High School playing basketball, baseball, and football. He was captain of all three sports his junior and senior years in high school and was elected to the Mahwah High School Hall of Fame. His head football coach, Ed Caporale, and his basketball coach, John Carty, are two coaches who Roger said had a great influence on his athletic career at Mahwah. Roger was selected to play in the prestigious North vs. South Football game, as well as the North vs. South baseball game, after his high school career.

In basketball, Roger scored over 1000 points in his high school career and gained great respect from rival teams as an outstanding player and team leader, while capturing a group I state championship. In the spring, Roger played baseball for Mahwah as an outfielder and pitcher. In baseball, he was scouted and had the chance to play at the Division I level. In football, Roger played both QB and safety, punter and place-kicker, leading Mahwah to a State Championship his senior year.

An outstanding high school athlete, Roger received 10 varsity letters. He played on 4 state championship teams. He received scholarship offers from SU, Indiana, Iowa, Penn State, and Maryland, along with a host of others. Coach Bill Maxwell recruited Roger for SU. Roger mentioned that on a recruiting trip to Penn State, that Penn State Coach Joe Paterno wanted Roger to come to PSU as a defensive player. After much consideration, Roger liked Coach Lee Corso and chose the Indiana Football Program, as Coach Corso was going to give him the chance to play both football and baseball (in fact, Coach Corso even flew home with him on his recruiting trip). However, after Coach Corso left Indiana, Roger felt inclined to transfer to a school closer to home. He talked to Coach Mac, who welcomed him with open arms and decided to transfer to SU.
SYRACUSE UNIVERSITY:
Roger initially came to SU as a QB under, coach Mac. His first year, he was the scout team QB as he had to sit out a year because he was a transfer (unlike today). He mentioned that he did play in the annual spring game and connected with TE Pat Kelly for an 87-yard TD pass. At 6'3" 237 lbs., Roger was a great size for a QB. However, SU was going to an option attack, which was not one of his strengths. In a meeting with Coach Mac, after the spring game, coach asked Roger to play defense as an OLB where he could use his athletic ability to get on the field, which is where he excelled. Roger mentioned that he has enjoyed the many friendships he has gained from his SU football brothers, which he is very grateful for.

During his time at SU, Roger participated in the Cherry Bowl where SU lost to Maryland 35-18. Incidentally, Roger mentioned that when Joe Paterno from Penn State wanted to switch him to defense, he declined because he wanted to be a QB. Later in his college career, SU played Penn State and after the game he saw Joe P. who said to him "See, I told you that you would play defense!" Roger mentioned that although not a captain for SU Football, he always tried to lead by example and be someone the younger players could look up to and talk to.

Roger's favorite memories at SU football include playing Special Teams on the day SU upset top ranked Nebraska 17-9, in what has been said to be the greatest victory in SU football history. Another highlight of his senior year was when SU played VA Tech at home, he won the Ray Martino game award as the defensive MVP of the game. He also recalled a memorable game against Temple at the old Vet, where his family had a chance to attend. During the game, he had a sack and several tackles in a solid effort that day.
PRO FOOTBALL:
Roger had the opportunity to go to camp with the Cleveland Browns in 1987, where he was a late cut. He was then picked up by the Indianapolis Colts and played five games for the Colts in 1987. He retired from the NFL to begin his career in sales and marketing.
AFTER FOOTBALL:
After leaving the NFL, Roger mentioned that he wasn't sure what he wanted to do. He went back home, and a neighbor suggested that he talk to one of his friends who was in the premium business. After a lengthy discussion with his neighbor, he decided to become a marketing rep in the premium industry. In his position he contacted major companies to offer sales incentives for workers to meet company goals. As he evolved in the business over the years, he moved to the position of Executive VP, Sales for Creating Brand Legacy (CBL), an international designer and manufacturer of promotional products, medals and awards, and apparel. It is a company that specializes in creating fully customized and unique products and awards. CBL prides itself on innovative designs to make their products standout. An example of this type of work is when someone goes into a bank and is offered a free pen with the bank's information on it. Another example is when someone attends a Yankee game and get a free logo hat for being one of the first 10,000 fans to enter the stadium. Businesses are spending huge marketing dollars on promoting their names, goods and services, and CBL helps them do that. CBL's vision is to provide one of a kind promotional product to make their clients' events successful. Roger is proud that he has been a part of continuing growth at CBL. His peers mentioned that "Roger is very adept at strategic development within his customer base, is well connected, very personable, savvy and driven. You couldn't ask for a better Executive VP, Sales."
COMMUNITY:
Roger has been the President of the John Carty Scholarship Fund/Golf Tournament since 1995. The fund is now in its 26th year and has given over $300,000 in scholarship money to graduating Mahwah High School seniors, who demonstrate the same characteristics as Coach Carty. Winners are chosen on the following qualities: grades, extracurricular activities, need and results of an essay about a coach who has had influence in your life. This year, the committee gave five – $5,000 scholarships out.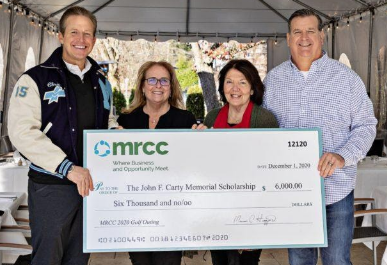 Coach Carty was an inspirational Coach at Mahwah High School from 1968-1990 who taught physical education, coached basketball, and according to Roger had a "great influence on all of the students that passed through his gym." The high school gym is now named after him. Roger mentioned that in the gym there is a plaque that characterizes Carty as a teacher who "inspired people to work hard and make the best of every day." Roger is also on the Mahwah Hall of Fame committee. Outside of sports, Roger also sits on the board of his condo association, is an active member in the FCA and is a member in SAAGNY – a work association.
CONCLUSION:
Roger has many fond memories of playing at SU, making lifelong friendships with his football brothers, and acquiring the skill sets necessary to achieve greatness after football.  A compassionate man whose leadership qualities have given him opportunities to excel in life.  You will see Roger at SFC events and SU games in the fall.  Roger mentioned that he would love the opportunity to talk to SU team members about the opportunity they have building the relationships and skill sets, that will provide them future success and happiness.  Roger can be reached at [email protected] or on his cell at 201.927.8855.
PLEASE VISIT OUR WEBSITE WWW.SYRACUSEFOOTBALLCLUB.COM FOR MORE INFORMATION ON IN THE LOOP!