PERSONAL:
Born in Ottawa, Canada to parents Ian Woodcock and Debra Cornelson. Pat lives in Ottawa with his wife Melanie and children Kaiya 13, Payton 11, Lilah 7, and Easton 5. Pat's favorite pastime is spending time with his beautiful family. Pat's personal life is always evolving with his wife Melanie and four children. He mentions that he and Melanie are extremely happy trying to be the best parents they can be, while emulating this family success into his business evolving and reviewing how he can better serve his business clients and grow his name brand. He graduated from SU with a Bachelors in Science in Marketing in 2000. He is involved in a charity "The Caring and Sharing Exchange".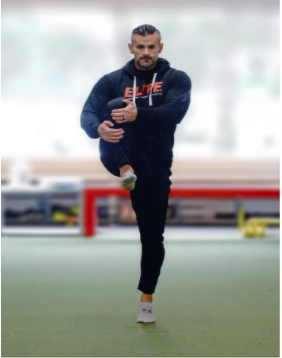 HIGH SCHOOL:
Pat played football for the Kanata Knights, Myers Riders, and Ottawa Sooners in high school, and competed in Basketball and Track for his high school, Holy Trinity in Kanata. In Track, he was provincially ranked in the 100 mm and long jump.
SYRACUSE UNIVERSITY:
Pat was a 3-year letter winner and Team Captain for SU. Pat played in four Bowl games for SU. (Liberty Bowl, Music City Bowl, Fiesta Bowl and Orange Bowl) He finished 8th in SU History in average yds per reception (16.9), finished 9th in SU History in consecutive games with at least one reception (16). Pat was the 3rd player in SU Football History to receive Big East All Academic Honors. Pat was also a four-time Academic All-American Nominee. At 5'9" 175lbs, Woody (as friends called him), had 2 TD receptions against BYU, during his Sr year, Pat caught TD passes of 79 and 65 yds with the 79 yd reception the 7th longest in SU Football History. Pat was not only a great football player, but also a scholar athlete and a team leader. Patrick chose SU over U of Michigan, (his favorite as a kid). SU won him over with his proximity to home and the potential to play quickly.
PRO FOOTBALL:
Pat had an 8-year career as a professional football player. He played as a receiver in the NFL for the Giants and Redskins, and the CFL for the Montreal Alouettes, Ottawa Renegade, Edmonton Eskimos and Hamilton Tiger Cats. During his pro career, Pat caught 178 passes for 2778 yards and 18 TDs, he led the CFL in average yards per reception (23.9) in 2002, he was a CFL East All Star. Pat won the Grey Cup Championship in 2002 while playing for the Montreal Alouettes, and he was named the Most Outstanding Canadian Player in the game, and set a Grey Cup Record with a 99-yard TD reception. Pat mentioned that he was a Winnipeg Blue Bomber fan when growing up.
AFTER FOOTBALL:
Pat is Founder and CEO of the Elite Man Method, which helps Entrepreneurs, Executives, CEOs, and busy Dads all over the world build the Lean & Muscular Physique they've always wanted, while they Optimize Health, Energy, & Productivity. Pat is a strength, speed, & conditioning coach, personal trainer, nutrition/supplement coach, and speaker. He has coached professional athletes in football, basketball, lacrosse, and soccer, won a Grey Cup Championship as the Head Strength Coordinator of the CFL's Ottawa RedBlacks, and is a multi-year nominee as Ottawa's Top Personal Trainer. Pat was also named to Ottawa's Top 40 Under 40 Business People as the owner of Elite Performance Academy, one of the premier Health, Fitness, and Human Performance facilities in Ottawa, Ontario, Canada.

In addition to training and coaching, Pat is a respected and sought-after speaker and presenter for conferences, organizations, and companies. Whether presenting on specific training modalities or about optimizing personal health and performance, Pat is passionate about sharing his knowledge and experience to help people live stronger, healthier, and optimized lives. Some of the companies he has worked with include Football Canada, CBC Hockey Nation, Royal Bank of Canada, Mackenzie Investments, and the Catalyst Conference.

Pat is a Certified Strength and Conditioning Specialist through the NSCA, a National Level 3 Performance Specialist through the Poliquin Group, a Level 1 Certified Precision Nutrition Coach, a Level 1 Certified Hormone Specialist through the Nutritional Coaching Institute, and is Titleist Performance Institute Certified.

Pat related that his biggest business achievements have been:

1. Witnessing the growth of the young players coming through his program as they achieved a high level of success and future professional opportunities.

2. Helping Men build stronger, healthier bodies so that they can excel in business and in their families.
3. Winning a Grey Cup Championship as the Head Strength Coach for the CFL's Ottawa RedBlacks
4. Being recognized as a Leader in Business as a member of the 2017 Top 40 Under 40

Pat has just started a new job as Brand Ambassador at Revolution Nutrition, he has come a long way from his first job as a paper boy. He has learned how to optimize the physical and mental performance of both his athletes and his adult clients, and the impact of his exceptional program to help all his clients to reach their maximum potential whether on the field, in the boardroom, or in life. As a football brother, Pat represents his Alma Mater as a Distinguished Leader and Representative.
PLEASE VISIT OUR WEBSITE WWW.SYRACUSEFOOTBALLCLUB.COM FOR MORE INFORMATION ON IN THE LOOP!