WE CELEBRATE THE LIFE OF A MAN WHOSE STANDARDS OF PERFORMANCE ON AND OFF THE FIELD REFLECTED THE FINEST QUALITIES OF COMPETITION AND CAMARADERIE AS A HALL OF FAME FOOTBALL PLAYER AND PERSON, HE HAS ALWAYS BEEN A FRIEND, BROTHER, TEAMMATE AND CHEERLEADER.
Several years ago, I had the honor to write a very similar poem for survivors of former SU players who had gone to be with their Lord. Those same words describe a man who has touched us within his kindness, generosity, humor and giving of self whenever he is in our presence. Following his Life journey enthusiastically, we have been privileged to share in the history of a man who has been an inspiration to all; men and women, young and old throughout his sports career.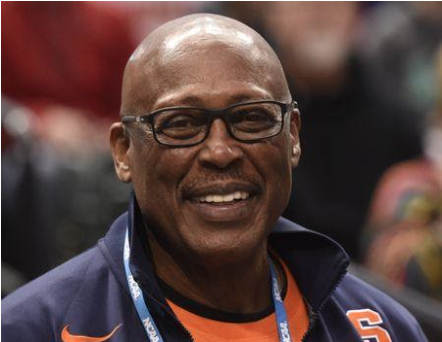 Peyton Manning said, "There is a wonderful law of nature that the three things we crave most in life… Happiness, freedom and peace of mind are always obtained by giving them to someone else!" Our friend Floyd is a guardian of this message.
Whenever you meet him, he always makes an effort to come over to see you, shake your hand or give you a hug. His genuine concern for your health and family through that warm smile emphasizes his real feelings for you. When he left you, you felt better as a person who has just been lifted up by the light of the Holy Spirit.
Floyd is a very special man, a gift from God to all those who know him. To borrow a thought from my daughter Jessica, who wrote this sentence in a reflection on another person, "There are dark shadows on earth, but the lights are stronger in the contrast." Floyd is one of those lights.
When we learned of Floyd's illness, we formed a "go fund me" page in order to help with the mounting expenses that go along with cancer treatments. The love received from Floyd's fans and friends was evident as you read the comments praying for Floyd in his battle. Thoughts regarding Floyd's Hall of Fame career covered all areas including memories of certain plays, successes as a teammate and football brother, his mental toughness and what he personally meant to his fans were pointed out time after time. By the way, Floyd has been inducted in 10 Hall of Fames highlighted by the college and Pro Hall of Fame.
Throughout his football career, Floyd has been a tremendous example for youth to follow in athletics. As a player, he was unselfish, always giving credit to his line for their blocking and was an athlete who understood the words "Teammate" and "Brotherhood" as important factors in having a winning team. One can say that Floyd never forgot where he came from.
Today we are going to talk about a new phase in Floyd's journey… Hospice. Floyd's courageous battle with a difficult disease (cancer) is now at a critical stage in his life. This is a time when a husband and his wife must make important decisions regarding potential end of life decisions. In the many years I have had the honor to be a family caregiver for Hospice, I have seen the mental strain, tearful decision-making process, and frustration of two people in love asking the Lord to take their hand and guide them to make the right decision for their loved one. So much is discussed that is heartbreaking, however necessary for peace of mind. Hospice provides a chaplain to help hospice patients as this struggle through this process. Below please see a typical prayer which may be used to help hospice patients
"God, thank you for being with us now. We confess that we don't understand why things happen the way they do. We don't understand why illness comes into our lives, but we know you walk hand-in-hand in our life's path with us."
A person once said, "Friends are quiet angels who lift us to our feet when our wings have trouble remembering how to fly." Through your contemplation, send your love and prayers for peace to Floyd, Deborah and family. Let them know that they are not alone and that their courage and love in their battle evoke our own, and that in our prayers, we are one with them in their thoughts, their hearts, and their tears. We pray then Lord for your mercy and that the Holy Spirit bring peace to Floyd's soul, forgiveness for any sins, and happiness with his beloved Jesus. Floyd… "A truly compassionate person who can feel what you feel because he is one with you in mind, body and spirit; not as an obligation or a sense of responsibility." I love you my friend!