PERSONAL:
Len was born in Syracuse, NY. He is the son of Michael and Josephine Campolieta. He lives in Liverpool, NY with his wife, Susan. Len met Susan during their senior year at Syracuse University. They have three children, Justin, Aaron and Meredith. They have two grandchildren, Mary and June. Len also has two brothers, Patsy (deceased), and Michael, who played football for Boston College.

Len's dad, Michael was All City football at Vocational High School. After serving in WWII, he graduated from Syracuse with a BA and Masters in education and went on to become a History Teacher, Coach and highly regarded High School Principal. Len mentioned that his dad's influence on him greatly determined the skills he needed in sports and later in the successes he had in life. Josephine, his mom, was an excellent seamstress who made tailored clothing for special need girls at the Syracuse Girls School. Len received a BS in Mechanical Engineering at SU.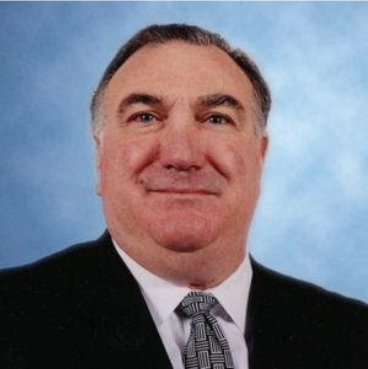 HIGH SCHOOL:
Len attended Solvay High School where he was a four sport letterwinner in football, basketball, baseball and wrestling. He was All Onondaga County in football. Len was in the top 10% of his class in his studies. After H.S., Len attended Manlius Military Academy and played football under Coach Whitey Anderson. Joe Ehrmann, SU football and pro great attended Manlius Prep at the same time. SU, Penn State and Holy Cross were interested in Len while at Manlius Military Academy. SU offensive line Coach Rocco Pirro recruited Len out of Manlius Prep.
SYRACUSE UNIVERSITY:
Len played defensive tackle and end at Syracuse, as he played on defensive line with Joe Ehrmann, Ted Lachowicz and Bill Coghill. His dad supported him in many ways and told him not to worry about playing time, BUT, be ready when you get the opportunity to get into the game. Len had the opportunity and started his Junior and Senior years. His dad emphasized the importance of the education he was receiving at SU and Len understood what he was saying. Len's unselfish approach to helping his SU team to be successful in winning games was an indicator of the type of person and teammate he was.
PRO FOOTBALL:
Len played Semi-Pro football with SU teammate, Ted Lachowicz after SU for the North Cumberland Coal Crackers in Pennsylvania.
AFTER FOOTBALL:
Len initially worked construction for two years. His future wife Susan said to him that "if you don't get a real job, we can't get married." So, Susan with her girlfriend Sharon helped him to put together his resume and he applied to various engineering companies. One of the engineering companies was O'Brien & Gere, a provider of engineering, construction and operational services. He interviewed and was accepted to begin work in electrical engineering. Len proceeded to work forty years for O'Brien & Gere and progressed in the company to Senior Vice President and Chief Engineer. He was in charge of 150 Engineers at one time in his career. By the way, he and Susan were married happily after gaining employment at O'Brien & Gere.

Len mentioned that a lesson he learned from football was building a project team built on relationships was a key to successful engineering projects. During his forty years employment, Len has overseen many projects that affect our environment including water treatment plants to working with IBM designing computer chip manufacturing facilities.

Len retired from O'Brien & Gere and started his own consulting company, ljc campolieta Program Management Services. He worked as a consultant on the renovation of the Cathedral in Syracuse and the $ 300,000,000 dollar upgrade project for the Syracuse School District. He was then offered an opportunity to work on a special project for the DOD in Hawaii for two and a half years. Again, he said the importance of relationships that helped his consulting company grow, as he became engaged in projects supervised by former employees and clients he worked with during his O'Brien & Gere employment.
COMMUNITY:
Board of Directors for (Center for Community Alternatives (See below)
Board Member for the New York State Professional Engineering
President of SU Varsity Club
President of Syracuse Football Club
Board of Directors of St. Joseph Catholic Church
Coached Youth Basketball
Co-President with Susan of Elementary School PTO
Center for Community Alternatives (CCA):
An organization developed to help keep youth out of jail. CCA is a leader in community based alternatives to incarceration for over 40 years. They promote reintegrative justice and a reduced reliance on incarceration through advocacy, services, and public policy development in pursuit of civil and human rights. CCA provides direct services to communities in NYC, Syracuse and Rochester.
CONCLUSION:
Len is another example of a former SU player who gained success in the employment field of his choice and degree. His contributions to our community are outstanding and his love for SU and SU football shines brightly in his life.
PLEASE VISIT OUR WEBSITE WWW.SYRACUSEFOOTBALLCLUB.COM FOR MORE INFORMATION ON IN THE LOOP!