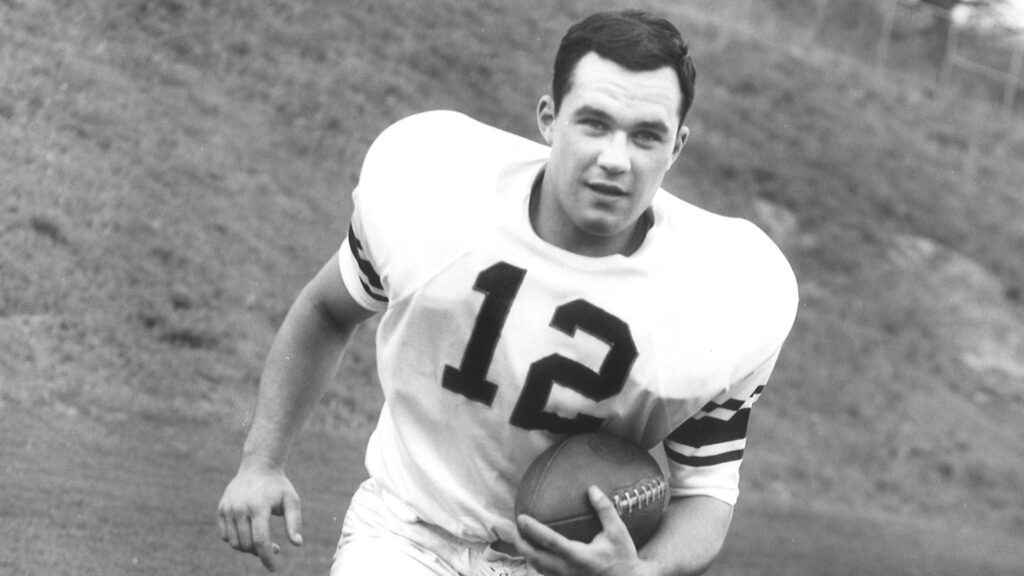 Dick Murphy '67 is the 2022 recipient of the Zunic Award and will be honored during Syracuse's game against Purdue on Saturday.

Presented by the Syracuse Football Club, the Zunic Award was created in 2001 to honor Mike and Judy Zunic, who died tragically on July 18, 1989 when a United Airlines plane crashed in Sioux City, Iowa. The pilot, anticipating landing difficulties, requested if some strong passengers would volunteer to give up their seats and sit at the exit doors to assist passengers in the event of an emergency. Mike and Judy gave up their seats in first class to sit at one of the doors. They both died in the crash and those in the Zunics' original seats survived.

Mike Zunic was a four-year starter at linebacker and earned a bachelor's degree (1981) and master's degree (1982) in speech communication from Syracuse.

Murphy was a member of the Orange's 1963 freshman team and was on 'Cuse's varsity squad from 1964-66, earning his varsity letter in 1966 as a kicker. He was a member of the 1964 Sugar Bowl and 1966 Gator Bowl Teams. He graduated with a Bachelor of Arts degree in 1967. He also was a 2000 Varsity Club Letterwinnner of Distinction Award recipient. Murphy passed away earlier this month. The award will be accepted on Saturday by his wife, Carolyn.

After graduation, he enlisted in the United States Marine Corps Active Reserves. He served for three years, primarily assigned to the 8th Marine Corps Tank Division and was honorably discharged in September 1970.

Murphy continued to be involved in Syracuse's football community since his graduation. He was a member of the Varsity Club and Syracuse Football Letterman's club. He served on the Varsity Club board since 1979 and was the president from 1996-99.

He was also involved in numerous charitable causes. He worked on many fundraising projects for the Muscular Dystrophy Society and the Leukemia Society. Additionally, he worked on projects for the Ronald McDonald House and Toys for Tots.

He spent his professional career in financial services, specializing in business insurance and estate planning. Murphy was a member of the international Million-Dollar Round Table and served on several international committees through this organization. He is also a member of the National Association of Insurance and Financial Advisors, serving as president for the Syracuse chapter from 1991-92. In 1998, he earned the association's Distinguished Service Award.

Murphy joins a tremendous list of past honorees:

Zunic Award Recipients
2001: Mr. and Mrs. Zunic, Frank Maloney, Gene Grabosky '60 (posthumous)
2002: Pat '88 and Kari Kelly, Roberta DeLeone
2003: Jim DaRin '77
2004: Joshua Frase
2005: Jim Rooney
2006: Rockette Pirro Brunetti, Horace Landry
2007: Sylvia Mackey, Chris Ingram '89 (posthumous)
2008: Robin Griffin '72, Carlmon Jones, Ron Page '74
2009: Bill Coghill '72, Norm Mordue '66
2010: Jim Jerome '76
2011: John Lally '82
2012: Tim Byrne '87 (posthumous)
2013: Pat Killorin '66
2014: Dick Beyer '53
2015: Frank Conover '91
2016: Tom Hermanowski '70
2017: J. Michael Anderson '77
2018: Rob Long '12, G'14
2019: Dan Conley '95
2021: John Lusardi ' 92
2022: Dick Murphy '67

Tickets to Saturday's game and the entirety of the remaining Syracuse football home slate are available at Cuse.com/Tickets.