PERSONAL:
David was born in Riverside, NJ, son of Randolph and Christine. David resides in Pembroke Pines, Florida with his wife of 28 years, Carolyn. David has a sister, Shandell. They have two children, a daughter Courtney who is studying at the U. of Central Florida and son Corey who played wide receiver at Notre Dame, Purdue and Morgan State. Corey was All State and an Under Armour All American, (ranked 72 overall best in HS) at St. Thomas Aquinas HS in Ft. Lauderdale and played for former SU Football ballboy and legendary HS Coach Rocco Casullo. David mentioned that Corey was clocked as the Irish's fastest player (4.3) and had a 41" vertical leap which led to him playing in all 11 games while starting in 4 games in 2016. After graduating in three years Corey transferred out of Notre Dame to Purdue for graduate school and then completed his Masters degree at Morgan State University in 2018. David graduated from the SU Maxwell School with a BA in International Relations in 1989.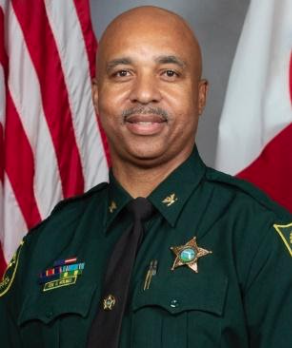 HIGH SCHOOL:
David was a three sport athlete for the Burlington City Blue Devils playing football, basketball and baseball. He was captain of his football and basketball team. He played middle linebacker for Coach Tim Reardon earning All-Conference and All-State honors. He was All-South Jersey in basketball and All-Conference in baseball. David mentioned that he came from a strong family of faith, and he couldn't play football unless he went to church on Sunday. He mentioned that his blue devils' team was undefeated in his senior year and lost by 1 point in the championship game because key players on the team went out the night before and played poorly in the championship game. The team ended up 9-1. Besides SU, several teams were recruiting David including BC, Nebraska, Penn State, Ohio State, U. of Miami, and Maryland, among others. David was recognized locally as excelling both athletically and academically. David mentioned that meeting Coach Mac played a pivotal role in him choosing SU over the other colleges interested in him.
SYRACUSE UNIVERSITY:
David was a three year letter winner at SU. He won the Pat Miller Award for best player on defense who also gave of his time and energy for community service. The SU defensive backfield that David was a part of was generally recognized as the best defensive backfield in the college his senior year. David said that he played LB for 3 days for SU when Coach Mac had a meeting with him and Mac said "David Holmes, you are a great athlete! What position do you feel will help our team to be the best?" At 185 lbs., David knew he was not big enough for LB, so he said to Coach Mac, "Defensive Back", and Coach Mac agreed. David said that his idol was former SU defensive back Peter Ewald, who he thought was the best defensive back he ever played with. Unfortunately, Peter's career was cut short by a severe knee injury. David had six interceptions in his career at SU with games and three more in bowl games. Average return of 14.0 yards. David participated for SU in three bowls, the Cherry Bowl in 1985 where SU lost to Maryland 35-18. The infamous Tie Die Sugar Bowl against Auburn which ended up as a tie 16-16, and in his senior year, the Hall of Fame Bowl where SU beat LSU 23-10.

David mentioned the inspiration he received from his hero, Markus Paul, former SU defensive back who played a major role as a co-captain, as a motivator, cheerleader, confidence builder and his roommate for five (Red Shirt) years at SU. Markus was David's best man in his wedding and was instrumental in introducing Carolyn to him during a visit to Chicago while Markus was a member of the Chicago Bears. David was also best man in Marcus's wedding. David was one of the organizers who started a foundation honoring the many good deeds of Markus while on this earth. He shared the pain of all of Markus's friends when they found out about his early life passing and commented that he is a better man because of Markus. He also mentioned that he became a better defensive back at SU because he had to defend against such quick receivers, Scott Schwedes, Tommy Kane and Rob Moore in practices. He mentioned that the big upset win over #1 Nebraska helped to turn around the SU Football program. At SU, he was given the City of Syracuse Paul Dunbar Award. Working with the Parks and Recreation Dept of Syracuse participating through motivational and inspirational talks to the Syracuse City youth to help them to set their goals and achieve the passion they have in sports.

David was very high on his praise for Coach Mac who David said did as much for him and his personal growth as a person and football player. He said that Coach Mac brought the best out of him and his teammates on and off the field. He said that Coach Mac was able to get a firm commitment from the SU Team to be there for each other, sacrificing whatever they need to become the best. David said his leadership style is what Dave has adopted and used in his leadership style to bring out the best in his people in the law enforcement profession. Coach Mac's style has been used to encourage police officers to do whatever is needed to change the perception of police work and create a positive impact on the people they serve daily.
PRO FOOTBALL:
David was drafted in the fourth round by the Miami Dolphins in 1989. While with Miami, he developed knee problems. He ended going to the Hamilton Tiger Cats in the CFL and then the next year, signed on with the Detroit Lions. Unfortunately, the knee injuries caused him to retire from the NFL.
AFTER FOOTBALL:
After his professional career was over, David decided to pursue employment with the FBI. In 1994 through 1996, he was an Intelligent Analyst for the FBI. Working all over the country on major narcotics investigations. He was stationed in Johnstown, PA and his wife was located at their home in Florida. David wanted to see if he could be transferred down to Florida office to be with his wife but was told that they needed him where he was. Subsequently, he resigned from the FBI and joined the DEA in 1996 as a Diversion Investigator. He investigated pharmaceutical cases and the diversion of narcotics (where prescription medicines are obtained or used illegally.) In 1997, he left that position and became a Workers Compensation Insurance Investigator for 7 months in the Miami Florida area. In 1998 he then left and joined the Broward County Sheriff's office as a Sheriff Deputy. He mentioned he started his police career in a rough neighborhood of Ft. Lauderdale and worked his way up from routine patrols to internal affairs and continued to move up to the ranks of Sergeant and then Lieutenant for the next 13 years.

In 2011, David was promoted to District Chief for the City of North Lauderdale Florida. "It was a great honor for David and well deserved" stated by City Commissioner Rich Moyle. He went on to say that Dave was a very good fit for that position with the rest of the team. He said that "Holmes isn't one to sit behind his desk. His biggest asset is that he is out in the community, he's very involved. He comes to the city's events, and he is very outgoing, he's fantastic. We couldn't have a better chief." David will be the first to tell you that he leaned all of those great personal traits from Coach Mac.

Since then, he has continued to rise through the ranks to his current role as Executive Director for the Department of Law Enforcement. Under the leadership of Broward Sherriff Gregory Tony, David was promoted twice. In 2019, he was promoted from Major to Lt. Colonel and achieved his current rank of Colonel in September of 2019.
COMMUNITY SERVICE:
For 13 years, David and two other law enforcement officers (Melvin Murphy and Aimee Russo) created a non-profit organization training athletes in all sports; especially football in order to give them the skill sets they need to play college football. The camp was set up every Saturday, free of charge. Many Former College and NFL players, who are policemen now, volunteered to help run the training sessions. The foundation received donations from companies and individuals to help them to continue this community service. David said over 50 of the kids played in college with 5 successfully making it to the NFL. The camp taught not only the basic skills needed for various positions, but the importance of respect for others, honor, discipline, academic success.
FINAL THOUGHTS:
David mentioned that he could retire soon, but, that he wants to stay around for approximately five more years to help make a difference in the community and improve our profession in the eyes of society. Coach Mac used to tell David and his teammates to "Disregard all extraneous stimuli and focus on the task at hand." With that being said, David says that the police have a responsibility from a law enforcement perspective to carry themselves in a certain manner. The key to the controversies regarding the police force and those that do not like the police, is that both sides need to step back and listen to each other with an open mind. If we respect each other then the path of harmony will open and our profession can recruit individuals who want an opportunity to serve the community and make a big difference. David is a true SU Orangeman, fellow brother, and SU sports fan who enjoys the camaraderie and is proud of being a former SU football player and Student Athlete!
PLEASE VISIT OUR WEBSITE WWW.SYRACUSEFOOTBALLCLUB.COM FOR MORE INFORMATION ON IN THE LOOP!