PERSONAL:
Cliff was born in Washington, DC and brought up in Fairfax, VA. He is the third of four children of Grover and Creta. He presently lives in Flemington, NJ and has a home on the water in Cazenovia, NY with his wife of 21 years, Sue. Cliff has two children, Scott and Jennifer. Scott is part of the Management Team of Leisure Merchandising Corporation. He has two children, Jackson and Sahara. Jackson will be a Senior this year at the SU Whitman School of Business. Sahara will be attending George Washington for her master's degree. Jennifer has two young children Jameson and Madeline. Cliff mentioned that family is very important to him and Sue and looks forward to the special times when they all get together.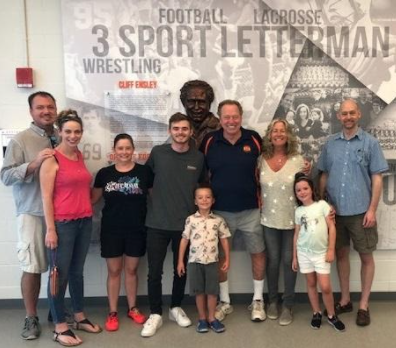 In his early years (up to 11 years old), Cliff suffered with a learning disability called Dyslexia (he would read words backward, numbers would be reversed, and he would write them down wrong, and he had difficulty finishing exams). Because of this disability, Cliff maintained a very imaginative way to communicate with others. This issue continues today but lessened at about twelve when "my brain started connecting" and mitigated his disability. Cliff mentioned in his early challenging years, he had a tendency towards and love of athletics which gave him freedom of expression and confidence in himself. He did not have to talk or socialize, just get on the field and let his actions talk and socialize for him.
Cliff shared a very personal feeling that those who have learning disabilities should never give up or feel inferior if you want to overcome your issues. He found a way through hard work and effort and encourages others to do the same. Cliff received a bachelor's degree in economics, a BS in Engineering and an MBA in his six years of SU. A tribute to the work ethic of one incredible person.
HIGH SCHOOL:
Cliff was a three-sport athlete at Scarsdale High School in Scarsdale, NY. He played DE on defense and a flanker back on offense. He also stepped in as QB when the teams QB became injured. Roy Stemer was his High School Football Coach. His sports participation included football, wrestling (Section 1 Champ at 167 lbs.) and lacrosse. He was captain of all three sports teams. In 1965 he was honored as Athlete of the Year at Scarsdale High. Cliff was offered entrance into West Point for lacrosse; however, he did not have any college offers for football. I asked him how he chose to come to Syracuse? He stated "That he flew up to Syracuse to visit the school with a scrapbook of his sports achievements in February of 1965. He met AD Lew Andreas who asked him to go out to the field house to meet up with any coach there. It was a mile and a half walk and it was snowing and freezing cold, but he walked out there determined to discuss any opportunities at SU. There he met Coach Roy Simmons who reviewed his scrapbook and the fact that West Point wanted him for Lacrosse, Coach showed him around the campus and took him back to his house for lunch. As Simmie dropped Cliff off at the airport, he asked that if he would roll up his sleeves and got him into SU, would Cliff not consider the West Point offer. Cliff responded yes. Cliff said Coach Simmons was responsible for making him Orange Forever. He also talked to Ed Carlin, the wrestling coach at SU who later watched Cliff in the state wrestling finals and encouraged him to come to Syracuse. Excited by his conversations with the coaches, Cliff enrolled at SU.
SYRACUSE UNIVERSITY:
Cliff was one of ten walk-ons for SU Freshman football Coach Jim Shreve, and after a short period of practices, he was the only one left. He was too small to play DE, asked if he could try safety, and was placed in that position. Cliff was a vicious tackler and in his first scrimmage, after several tackles, he impressed the SU coaches enough to secure that position. Former SU great and NFL Pro Jim Ridlon was his defensive back coach as he moved up to Varsity and received his scholarship from Coach Schwartzwalder during his freshman spring. Cliff was a three-year starter in football and lacrosse and lettered in wrestling. He was the last SU Athlete to letter in three sports. He was captain of the lacrosse team and MVP his senior year. He was Honorable Mention All American his senior year in football. Cliff said his proudest achievement at SU was being named Athlete of the Year at SU in 1965. This award put him in the same group as Jim Brown, Ernie Davis, Floyd Little, Dave Bing, Larry Csonka and other notable SU Athletes who had won that award before him. He mentioned that one of his greatest memories of playing football at SU was beating Penn State his sophomore year (1966) at Penn State for the Lambert Trophy. In his junior year when he and his teammates flew out to play UCLA, which was ranked #3 at the time and had Gary Beban, the Heisman Trophy quarterback winner. SU beat UCLA 32-14 and finished the season 8-2. The next year, UCLA again ranked #3 came to SU to play and lost again. Cliff mentioned that Coach Ben let him return punts in his last 5 games as a senior and returned a season record 31 punts in those 5 games. He chuckled when he said he did not like to fair catch the ball and ran back as many as he could. He, also, praised the defense that season which forced all those punts. He returned 9 punts in two games his senior year which is still a SU game record. In his last home game at SU, Cliff returned a punt 80 yards for a touchdown. He still ranks number two in the interception return yardage for a season, one for a touchdown against Pitt.
PRO FOOTBALL:
Cliff was in ROTC at SU during the Vietnam War era, which required him to go into the service for his country after graduation. He was drafted in the first Supplemental Draft by the Eagles who owned the rights to his playing time in the NFL. The Army called him to service in 1972 supposedly for two years, but with the war winding down was released from the service early in September which was too late to join the Eagles. He did play a year of Semi-Pro Football. His first child was born during that year and Cliff decided not to pursue a career in football and decided to use his degrees to start a retail career.
AFTER FOOTBALL:
Cliff never mapped out a future career path but wanted to learn a profession that would grade him on his achievement, like athletics where you would be rewarded if you did well and benched if you did not. His first business position was a luggage buyer for Abraham & Strauss Department Stores. In 1976, he left A & S and because the sales manager for Henry Rosenfield Luggage. Cliff maintains that "he learned a lot about retail, marketing and sales while working for those companies." Entrepreneurship bit Cliff and in 1978, he felt ready to start his own luggage company and began his career as a luggage wholesaler with a $2500 investment. He found out quickly that he was under capitalized and needed financial support. Through some creative financing, he was able to struggle through some challenging business years. However, in the mid 80's, his company went through a defining moment when he received a huge shipment of defective merchandise which was shipped to his store customers. This defective shipment created a financial crisis which caused Cliff to declare bankruptcy. Testing his high business work ethics, Cliff covered the loss and replaced the defective luggage with good luggage for his valued customers. Cliff worked hard and came out of Chapter 11, forming a new and highly successful Leisure Merchandising Corporation in 1987.

He received financial support from the banks and overseas factories and turned his new business into a highly profitable multimillion dollar business. Cliff maintained that his wife Sue, his Chief Merchandising Officer, played a major role in the continued success of his company which he is very grateful for. Sue's design talents lifted the company to a new level. According to Cliff, "she is the best designer in our industry." Like many others, his support from Sue as his wife and teammate in life contributed to his ability to get through tough times successfully. Cliff has served as Chair of (TGA) Travel Goods of America, an industry membership organization with 350 members and was recently elected to serve as Chair during this critical period for travel goods. The first member to be twice elected to Chair that association.
COMMUNITY SERVICE:
Syracuse athletics taught Cliff the importance of giving back to others and helped to shape him in business success as well.
Cliff established and endowed the "Orange Forever Memorial Fund". This fund provides the family of any former Syracuse Orange student athlete an orange blanket with a card from his teammates with expressions of their admiration and remembrances of a fallen SU brother or sister. "They will always be in our hearts and never forgotten."
Cliff and Sue contributed a multi-million dollar gift to SU's future athletic successes that, along with other donations, enabled the construction of the Cliff Ensley Athletic Center. This 87,000 square foot facility creates a space where both the offensive and defensive units can practice at the same time. It also accommodates SU lacrosse, soccer and field hockey teams.
Cliff and Sue, also, donated toward the Bronze Statues of his former lacrosse coaches Roy Simmons Sr. and Roy Simmons Jr., along with Coach Ben Schwartzwalder. They also co-founded the Chris Gedney football scholarship and contributed towards the Veterans Center, Lally Complex, Legends Society as well as the colleges at SU where Cliff received degrees.
Cliff and Sue contribute to many other charities as a way of giving back.
FINAL THOUGHTS:
Cliff is a great example of an athlete who overcame learning disabilities at an early age to become very successful in his SU sports career, business ventures, and personal life. His motto in life is "let us be measured by what we do and not what we say, always do the best you can and see where it takes you." A kind and generous man, Cliff is always looking forward to the camaraderie of his fellow SU football and lacrosse teammates and friends, the opportunity to enjoy SU sports, and the opportunity to help elevate SU's sports programs and student athletes. Cliff feels he has had a blessed life and looks forward to where it may lead. "You cannot choose your battlefield; the Gods do that for you; But you can plant a standard Where a standard never flew." – Nathalia Crane
PLEASE VISIT OUR WEBSITE WWW.SYRACUSEFOOTBALLCLUB.COM FOR MORE INFORMATION ON IN THE LOOP!