PERSONAL:
Bill was born in Stroudsburg, PA. He is the son of William and Elizabeth Schoonover. William was an all-around athlete in High School and went to Gettysburg College to play football. Bill lives in Watchung, NJ with his bride of 56 years, Susie. They have two children, Richard and Lauren and three grandchildren, Lily, Richard and Isabella. Bill met Susie at SU where she gained a BA in Secondary Education. Bill received a degree from SU in History.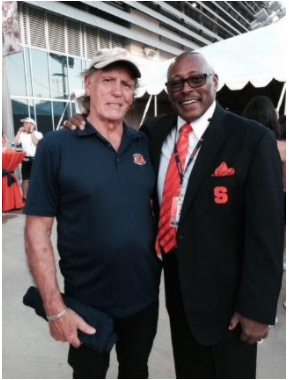 HIGH SCHOOL:
Bill was a two sport athlete at Stroudsburg Union High School playing baseball and football initially as a QB first and then as a tailback on offense. On defense, he played safety. He also punted for his team. Bill had an unselfish team approach and played wherever the Coach needed him to help his team win the game. The head coach at Stroudsburg Union was John Whitehead, who later became Head Coach at LeHigh University. Bill also played short stop for his High School Baseball team and was asked to sign a contract with the Pittsburgh Pirates. He declined the Pirates offer to go to SU to pursue his football and educational goals. He was captain of the football and baseball teams. He was named on numerous All Star teams and High School All American. He was recruited by Navy, Penn State, West Point, Cornell, Yale and SU. While on a recruiting trip to Penn State with his dad, Bill had given a handshake agreement with their Head Coach Rip Engle to sign with them Nittany Lions.

However, Ted Daily, SU Defensive Coach, was visiting the East Stroudsburg summer football camp looking at another prospect, when a local coach told him to check out Bill at the camp as he impressed many of the local High School coaches that played against Stroudsburg High School. Ted went to the camp and was impressed with the athletic skill set of Bill and invited him to visit SU to meet Head Coach Ben Schwartzwalder. Bill said that when the coaches from college schools went to the camp, they stayed at a hotel owned by Bills grandparents. His grandmother became friends with Ted Daily and I'm sure discussed her grandson's capabilities as an athlete with Ted any chance she had. Bill accepted Ted's invitation and visited SU. During a meeting with Coach Ben, he was shown a depth chart of potential SU recruits and he was on it. Bill decided that SU was where he wanted to play football and pursue his education. This change of plans to attend SU instead of Penn State would show up later as Rip Engle was the head coach for the North Squad in the Blue Gray game.
SYRACUSE UNIVERSITY:
Bill played full back, tail back, LB, and was a punter for SU. He mentioned that Coach Ben was a mentor for him during his college career and that his support helped Bill to get through the athletic and educational grind. In 1962 and 1963 Bill wore the coveted #44 jersey playing under Bill Bell, SU's offensive backfield coach. In 1964, Ben gave the #44 to incoming freshman Floyd Little and gave Bill #36. Continuing the unselfish team approach he has had all along, he continued to give 100% effort to do whatever the coaches wanted of him to help his SU football team be successful. During his playing career at SU, Bill averaged 5.2 yards per carry.

A special game he remembered was in his sophomore year when SU was playing West Virginia, Gary Fallon, the first team full back was hurt, and Bill replaced him in the game. On his first series in the game, the QB called an automatic 936 play which gave Bill his first a hand off in his career. A 936 was a handoff to the fullback up the middle. The O line opened a huge hole and Bill ran 54 yards for a touchdown.

Bill also played in the Liberty Bowl and recovered a fumble which allowed SU to beat Miami. A fond memory was after that game was over, Bill was walking off the field with his dad and Ernie Davis's mom came over and said that she wanted Bill's dad to know that she was grateful to Bill for his contribution to the success of Ernie's accomplishments. Ernie came over and shook Bill's father's hand and thanked Bill personally for his help. Bill said his dad had a very wide smile on his face. Bill played in the Blue Gray game after his senior year and was voted the MVP of the game as a defensive player (LB). He said he asked Rip Engle (Coach of Blue Squad) if he would play a series of offense because the Pro Scouts were at the game. Rip declined saying "I remember you!"
PRO FOOTBALL:
Bill signed as a free agent for the Cleveland Browns for one year. He also played semi-pro for Mohawk Valley Falcons.
SERVICE:
Bill joined the Marine Corps at SU in 1961, not ROTC, but Marine Corp Platoon Leaders Course (PLC Program) between his sophomore year and junior year, and junior and senior years at SU. He attended the Quantico Marine Training Camp after he graduated from SU and became a Second LT. He was later honorably discharged from the Marines.
AFTER FOOTBALL:
Bill began his professional career in the Insurance Industry with MONY. He then joined Big Yank clothing company in NYC as an Assistant Sales Manager selling to all the major clothing store chains. After a successful time there, he was asked by his wife's family to work in the family business (Home Furnishings), and he served as plant manager for 25 years. He supervised 120 people including 60 sewing machine operators. After a successful time with his family business, Bill decided to become a counselor for drug and alcoholic addictions. According to Bill, he made this decision because of his personal struggles with alcohol and drugs. He and his wife worked as a team focusing on families who were in early recovery. At that time, it was a unique husband and wife concept working as a team to help families resolve issues related to drug or alcohol addiction which caused family dysfunction. They assisted couples in learning the skills of effective communication, maintaining connections, reducing reactive behavior, goal setting, problem solving, accountability and forgiveness. Bill is today celebrating 38 years clean and sober!! He is a certified social worker, certified alcohol and drug counselor, certified IMAGO relationship services. Bill said that because we were successful as a family overcoming addiction, we felt comfortable that we possessed the personal resources available to help others in their issues.

The strength Bill personally received during full recovery from his addiction, helped him to develop a stronger faith and spiritual life personally. He said that most people successful in their recovery program have a transformation in their spiritual life and that it is very rewarding and has a big impact on personal growth. Bill mentioned that in his counseling progression, he has had the opportunity to work with Native Americans, Buddhists, Christians, Muslims, and many more belief systems and that even though all beliefs may be different, that they all come from a higher source which when realized, makes a big impact on one's path in life.

After retiring from being a full time counselor, Bill will occasionally work with a family in need. He enjoys the opportunity to pass on his experience, faith and knowledge to continue to help families to come together happily. Bill is also continuing his desire to help others now by joining a company that helps young kids in their athletic goals. He will be working with younger people teaching them golf skills, etiquette on the course and much more to help them to become another golf great like Tiger Woods.
CONCLUSION:
Bill is another example of a former football player who has contributed to the well being of others in our communities. He has a great love and passion for Syracuse U and is grateful for the opportunity to be a SU Football Brother.
PLEASE VISIT OUR WEBSITE WWW.SYRACUSEFOOTBALLCLUB.COM FOR MORE INFORMATION ON IN THE LOOP!