PERSONAL:
Alec is the son of Sean and Ellen and was born in 1991 in Aurora, Colorado.  He has a sister Katrina and two brothers, Brandon and Nick.

HIGH SCHOOL:

Alec attended Arundel Senior High School in Gambrills, Maryland where he played both offence and defence for his high school Coach Chuck Markiewicz.  He set the record for most receiving yards in his senior year with a total of 1616, while tying the records for TD's (23) and Receptions (103).  On defence as the team's safety or corner back, he had 30 tackles, intercepted 6 passes, including one as a touchdown, and forced two fumbles in his senior year.  Alec was selected to play in the Inaugural Crab Bowl All Star Game and completed an 81-yard pass for a TD!  He was a 2008 AP All State player and was a Rhodes Trophy recipient as 2008 Player of the Year in Arundel County.  He was also All Metro Baltimore, and All Metro DC Area.  A tall lanky wide receiver at 6'2" 190 lbs., he ran the 40-yard dash in 4.59 seconds.  He was a special playmaker when he had the ball and provided game winning situations throughout his career.  Most impressive about Alec during his High School years is how he helped his community.  He volunteered for the Arundel School Mentoring Program (KOM – Kick Off Mentor) providing mentoring to new freshmen, helping them to transition into their high school years.  Alec played baseball and basketball also.  Alec was team captain for the football team his senior year.  Alec was recruited by SU, Delaware, Vanderbilt, and James Madison.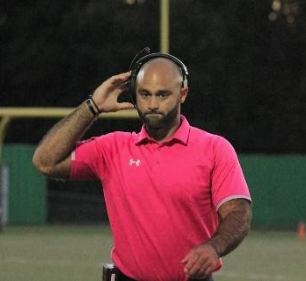 SYRACUSE UNIVERSITY:
Alec received 4 letters in football.  When Coach Doug Marrone became Head Coach, he only kept 13 of the original 25 recruits from the previous coach, and Alec was one of them.  During his career at SU, Alec owns SU's career and single-season receptions records with 201 career catches and 72 in 2012.  Alec ranks second on SU's career receiving yards record list (2,596).   His 18 career receiving touchdowns ranks third on SU's record list.  His 2,596 yards ranks second on SU's career receiving list, which was the highest total in the Big East among active players in 2012.  Closed his career with a streak of 28 consecutive games with a reception, which ranks fourth in SU history.  2013 'Cuse Awards Male Performance of the Year Award Winner.  2013 'Cuse Awards Play of the Year Award Winner.  Senior year (2012) All Big East First Team Selection.  2013 Senior Bowl selection.  Biletnikof Award semi-finalist.  Third receiver in SU history to record 1,000 yards receiving in a season.  His 89.2 receiving yards per game ranks fourth on SU's list for single-season receiving yards per game.  In 2012, his 6.0 receptions per game ranked 37th nationally and first in the Big East.  His 89.2 receiving yards per game ranked 23rd nationally and first in the conference.  He closed his career out at SU with a streak of 28 games straight with a reception. When Lemon put on his college uniform in 2009, Syracuse finished with just one Big East win.  By the end of Lemons 4 years, the Orange finished at the top of the conference and defeated West Virginia in the Pin Stripe Bowl, their 2nd win there in 4 years.
PRO FOOTBALL:
Alec was signed by Houston Texans as a free agent in 2013 and was in the Baltimore Ravens Practice Squad in 2014.  He played briefly with the Saskatchewan Rough Riders in the CFC in 2016.
AFTER FOOTBALL:
Alec is a very personable young man with solid leadership qualities.  Couch Markiewicz and Coach Jack Walsh say that a very strong characteristic of Alex is his ability to build relationships with his players.  They said that this quality comes natural to him and will help him to become a successful High School Coach.  Alec feels that a good Head Football Coach needs to walk in the hallways as well as the sidelines.  Instead of worrying about his players grades, or if they have behavioural problems, Coach can nip them before they sprout through his visibility in school.  Alec was giving the opportunity to become Head Coach for Glen Burnie High School this past year.  He had previously been an Assistant Coach at his high school in Arundel.  He has taken on a High School Program that went 1-8 last year and has not had a winning season since 2001.  A daunting task, but one that Alec is very excited about.  He will be drawing on his learning experiences while playing at SU for Former Head Coach Doug Marrone and also from NFL Head Coaches Gary Kubiak of the Houston Texans, and John Harbaugh of the Baltimore Ravens, two teams Alec had an opportunity to briefly be with after leaving SU.  In his first head coaching job, Lemon intends to supply all of the experiences and, as if not more importantly, connections made from college and pro football to his new players.  "I've built numerous relationships with college coaches that are recruiting for players on their college teams.  That's one of the big things I want to change."  Lemon said.  "Showing that we can get coaches and recruits into the school because of the relationships I have."  "But we're going to try to shoot for the stars. We want to set the bar high.  That way, we have our kids striving for something that they could accomplish, that could potentially get the best out of our kids."
PLEASE VISIT OUR WEBSITE WWW.SYRACUSEFOOTBALLCLUB.COM FOR MORE INFORMATION ON IN THE LOOP!