PERSONAL:
Tim was born in North Syracuse, NY to parents Timothy (Syracuse Police Officer) and Catherine. Tim has a brother John who was a great running back in High School, breaking many of the Cicero North Syracuse High School records Tim accomplished. John is a successful Dentist. Tim presently lives in Cazenovia, NY with his wife of 41 years, Carolyn. Carolyn graduated from SU in '78 with Bachelor of Fine Arts in Fashion Illustration. Tim met Carolyn his freshman year at SU, and they dated 6 years before getting married in 1980. They have twin daughters, Devan and Lindsey and a son Tyler. Devan works in a management role in the Wine and Spirits Industry. Lindsey is a Principal of Ahern, Murphy and Associates. Tyler graduated from the University of Rochester where he played football. Tim and Carolyn have four grandchildren, Delaina, Bennett, Andrew and Harper. Tim emphasized with much joy his love and appreciation of his grandchildren.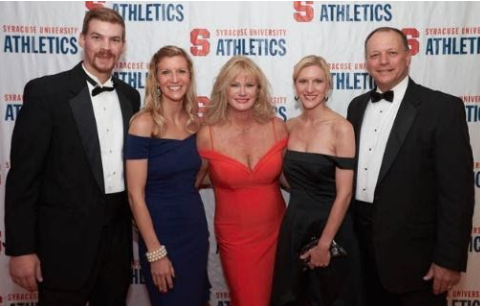 HIGH SCHOOL:
Tim was a four-sport athlete at Cicero High School playing football, basketball, track and baseball. Tim played for Coach Bobby Campbell, a former star football player with Penn State, in his senior year at Cicero. Up to his senior year, Tim had played quarterback and Bobby called him into his office to ask him to change to running back which Tim gladly did for the good of his football team. In his senior year at Cicero, Tim broke many of the rushing records and developed into a division 1 recruit. Tim credits Coach Campbell with instilling the needed improvements Tim and his fellow teammates accomplished when they became a league leading football team in their conference the first year Bobby Campbell coached.
Tim looked at Military academies, Ivy League Schools, Colgate, and SU to pursue his athletic and educational goals. Tim was captain of the Cicero High School football, basketball and track teams and was named the most outstanding senior athlete. Tim made his great strides in his athletic career despite, (at the age of 8 years) a spinal tumor the size of a grapefruit which needed to be surgically removed. He was diagnosed with Spinal Scoliosis and severe nerve damage. He was told he could never play sports, go to recess and any other activities important to a young man growing up. However, he was determined to beat that challenge and through hard work was able to gain the strength needed to participate successfully in sports. A tribute to the leader Tim is. Tim received many academic achievements in High School and was #26 in a class of 624 students.
SYRACUSE UNIVERSITY:
Tim was originally recruited as a defensive back by Coach Frank Maloney but was changed to wing back his sophomore year. He lettered in his sophomore and senior years. He was on the 2-deep depth chart as a sophomore at wingback and played on special teams. However, at the end of his sophomore season he was diagnosed with two ruptured discs and a fractured vertebra in the lower back. He spent his junior year in rehab and running scout ream. He returned the next year as a valuable member of the Special Teams. Unfortunately, SU did not participate in any bowl games during his SU career. Tim graduated from SU in 1978 cum laude in the SU School of Management in Accounting. In 2002, Tim was given the Letter Winner of Distinction award from SU. Tim's wife Carolyn, a varsity cheerleader at SU was also given the Letter Winner of Distinction award in 2017, making them the only husband and wife team to win this distinguished award from SU.
PRO FOOTBALL:
Like many players, Tim did not have the option of a Pro Football career. Tim mentioned that he was very interested in joining the FBI after graduating from SU. He found out that he either had to have a law degree or CPA to be considered. So, he joined Price Waterhouse for four years and received his CPA. However, twin daughters and a federal hiring freeze led Tim to a different career path.
AFTER FOOTBALL:
He left Price Waterhouse after a brief four-year career with them to join Oneida LTD where he became one of the youngest vice presidents in the history of the company. After Oneida LTD, Tim was approached by the Pyramid Companies, the largest and most successful shopping center developer in the Northeast. The positions held by Tim included Leasing Partner, Vice President of Leasing, Vice President of Recapitalization and Chief Operating Officer. He retired as a Partner and Senior Executive in 1998 to form his own Company, Ahern, Murphy and Associates. Tim is a Principal and Founder of Ahern, Murphy and Associates, and on July 1, 2018, his daughter Lindsey A Zajac joined their team as Principal.

With offices in Cazenovia and Buffalo, Ahern, Murphy & Associates is recognized as one of the premier Leadership and Organizational Development firms. As the "Agency of Change" they focus on working with clients to maximize their performance by implementing client tailored award-winning programs and processes that quickly allow clients to become more successful in meeting their personal, professional, and organizational objectives.

The scope of services provided by Ahern, Murphy & Associates are diverse and range from Leadership Development to High Performance Team Building to Strategic Performance Planning. The firm has successfully facilitated engagements with firms in the Banking, Health Care, Education, Pharmaceuticals, Automotive, Engineering, Architectural, Construction, Law, Computer, Communication Technology, Retail, Real Estate Development, Energy and Distribution industries. In the not-for-profit arena assignments have been successfully completed for Hospitals, School Districts, Collegiate Athletics, Military, Academia, Churches and Charitable Organizations that service the less fortunate of our communities.
COMMUNITY SERVICE:
Past Chairman of Greater Syracuse Chamber of Commerce
Past Chairman of Beacon Federal Bank
Board Member of the Fulton Group
Board Member of Byrne Dairy
Former Board Member of the Syracuse Varsity Club
Past President of the Syracuse Football Letterman's Club
Former Trustee of Cazenovia College
The business Journal of Central NY Top Leadership and Management Development Consultants Award
The Papal Benemerenti Award (Given by the Pope to members of the laity for service to the Catholic Church)
Cazenovia Volunteer Fire Department 2011 Firefighter of the year.
Cazenovia Volunteer Fire Department 2012 EMS Provider of the year
Recipient of the House of Providence Bishop's Medallion
FINAL THOUGHTS:
Tim is very proud that his grandparents were immigrants to the US from Ireland (dad) and Italy (mom). He mentioned that their names are engraved on the memorial wall at Ellis Island and that he has enjoyed taking his children and grandchildren there to give them a wonderful feeling and background of their family and the desire to live in a land that believes in freedom. Tim is another outstanding example of dedication, goal setting and leadership opportunities that are achieved after football by our SU Football Alumni.
PLEASE VISIT OUR WEBSITE WWW.SYRACUSEFOOTBALLCLUB.COM FOR MORE INFORMATION ON IN THE LOOP!