PERSONAL:
Terrel was born in Queens, NY. He is the son of Katrina Hunt and Darryl Dockery. He has five brothers, Darryl, Jamel, Janson, Akeem and Tyree and four sisters, Shayla, Shana, Tiara and Candace. He presently lives in Brooklyn, NY. Terrel has a BA in Sociology and an MS in Industrial Design Development Evaluation.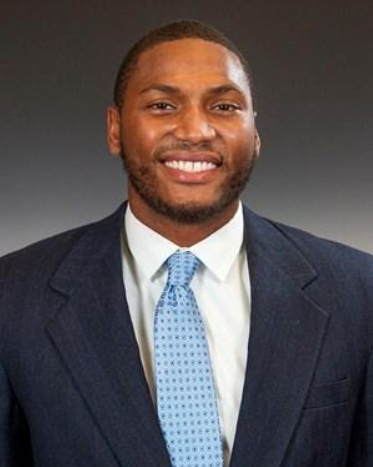 HIGH SCHOOL:
Terrel was a two sport athlete at Christ the King High School playing basketball and football. He played guard on the basketball team and was an all star in his league helping his team to the 2010 city and state titles. He was a three time captain for Head Coach Chris Higgins in football. In his senior year, he played safety on defense leading the league in interceptions. This was the only year he played defense as he was the QB and leader of the offense. In 2010, his senior year, he was on the New York Post and New York Daily News All-City Selection. He was a First Team Selection on the NY Post Selection.

As a senior in High School, Terrel completed 93-151 passes for 1218 yards and rushed for 1218 yards and 14 TDs on 123 carries. Terrel was recruited by many of the Big East Teams at the time, Cincinnati, Connecticut, Louisville, Pittsburgh, Rutgers, West VA, and Syracuse. At SU, he was recruited by offensive Coach Anselmo and Head Coach Doug Marrone. Terrel mentioned that he chose Syracuse for several reasons. Firstly, Syracuse was the first team to offer him a scholarship his sophomore year in High School. Sadly, both of his parents died while he was in high school. After the loss of his mom his junior year, and again his dad during his senior year, Terrel dedicated his successes to them knowing that they were looking down on him, so proud of the man he was becoming. When his mom passed away in his junior year, SU was the only school she had visited with Terrel. Secondly, on the day of her funeral both Coach Marrone and Coach Anselmo attended the services. That gesture meant a lot to Terrel because it showed that they were human and compassionate and cared for him as a person and not just as an athlete who can offer much to help the SU Football Program. In his senior year, he participated in the Boomer Esiason All Star game which include all of the top football talent in NYC. He also played in the Carrier Dome in the Upstate VS Downstate All Star Game.
SYRACUSE UNIVERSITY:
Terrel was a three letter winner at SU in football. He finished his career 10th All Time with 2621 passing yards and 6th in school history in passing yards per game (137.9). He was 9th in rushing TD's for a QB at SU with 13 TDs. Terrel had 250 completions in his career. He won the 2014 'Cuse Award for Player of the Year for his game winning pass to beat BC in 2013. Also, he won the SU 2014 Syracuse 8 Courage Award. Academically, he was a member of the Spring 2014 and the Fall 2015 Athletic Director's Honor Roll. In 2015, he was an ACC Honor Roll Selection. He was a Captain for SU in his Junior and Senior years. He was MVP in the 2013 Texas Bowl when Syracuse beat U of Minnesota 21-17. During that game, Terrel completed 19 of 29 passes for 188 yards and rushed for two touchdowns. A favorite game memory for Terrel was in his last game in 2013. Boston College was a heavy favorite, it was a must win game for SU if they were to receive a Bowl bid. At the end of the game with a little over a minute remaining and SU behind 31-27, Terrel masterminded a big drive down the field. SU had practiced a delayed pass to the TE all week which did not work in practice. With six seconds left, the coach called for that play and Terrel hit tight end Josh Paris with an 8 yd TD pass for a 34-31 victory.
PRO FOOTBALL:
Terrel was a very talented QB who unfortunately was a victim to injuries during his career. In his junior year in 2014, he suffered a season ending broken leg against Louisville. In his senior year in 2015, he suffered a season ending Achilles' tendon injury. Unfortunately, these injuries prevented NFL teams from considering this highly talented QB in the NFL draft.
AFTER FOOTBALL:
After graduating from SU with two degrees, Terrel struggled to find a career he was comfortable with and one that would provide a decent income. He noted that his goal was to be successful, and he needed a mentor to provide the knowledge to attain that goal. Terrel mentioned that his first several years after graduating from SU, and not playing football anymore, that he worked odd jobs to get by while trying to figure out his future. Terrel found his way to a new exciting opportunity by using his skillsets that he had developed throughout his life, and he began working as a medical and surgical salesperson for Stryker, a medical and surgical equipment company.

After several successful years with Stryker, Terrel found a new position with as a Medical Sales Representative for Avanos Medical. Avanos is a medical device company dedicated to discovering the latest innovative products in digestive health, respiratory health, and IV therapy. He is a sales consultant for Avanos for the Long Island, Brooklyn and Queens area. In his position, he introduces the resources available from his company to provide easy and reliable digestive health solutions that will help improve patients lives. He also participates as a support arm for surgeons during surgery. He calls it Quarterbacking through surgery.
COMMUNITY:
When the time comes for an athlete to end a career in a sport that they love to participate in and have been a star in, through an end of a college career, or due to an injury, or not being drafted by the NFL, they find themselves confronted with a new challenge which can be stressful and traumatic. An athlete's entire identity often centered around the success they had in their football career. All of a sudden that part of their life is over, and they are out in a tough world looking for a new career in the workplace.

Terrel and two former SU teammates and great friends, Wayne Morgan and Jeremiah Kobena all experienced this difficult period in their lives and formed an organization called 'The ② Perc③nt', whose mission is the advancement, preparation and transformation of student athletes for life beyond sports. They realized that the skills they learned as athletes through training, working hard, and striving to reach the top of their game is highly desirable out in the work force. Skilled athletes learn such things as discipline, teamwork, leadership, motivation, decision making, performing under pressure, ambition, goal orientation and resilience which are all qualities management people desire in employees. They have built their organization to provide direction, mentoring, education, a feeling of fellowship and importance of relationships with others to share success stories, experiences, ideas, common attitudes and interests and goals to help former athletes to plan life after football.

These three former SU football players are dedicating time in their life to prepare athletes for change, understand pitfalls and find opportunities… and importantly, letting them know that they have someone to reach out to for guidance.
CONCLUSION:
Terrel has experienced what many former athletes have gone through after a sports career has ended and is dedicating time in his life to share stories and techniques needed to help former players become successful and to excel in opportunities that come before them. Terrel represents SU well as a former player and successful person. In an article written about Terrel, the writer mentioned that "Terrel Hunt is a classy, great human being." He also is a great SU Football Brother – we are proud!
PLEASE VISIT OUR WEBSITE WWW.SYRACUSEFOOTBALLCLUB.COM FOR MORE INFORMATION ON IN THE LOOP!