MACKY MACPHERSON #59
PERSONAL:
Richard (Macky) MacPherson, son of Maureen MacPherson, was born in Syracuse, NY. Macky is the grandson of former SU Head Coach Dick MacPherson. Macky has a brother Cameron, who also played at SU as a Tight End. A scholar athlete, Macky received an Undergraduate BA Degree in Geography and a minor in mathematics (cum laude). He received a Master of Education in Instructional Design, Development and Evaluation which gave him the tools needed to analyze players in a sports environment and workers in a non-sports environment. His leadership skills, combined with his Masters Education, has helped athletes and non-athletes to work on overcoming weaknesses in their chosen career or position in order to improve their job performance.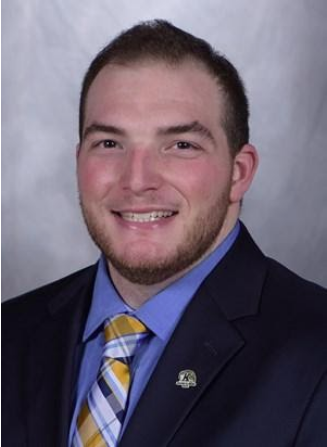 HONORS:
Macky played his High School Football at Christian Brothers Academy, where he was a Center on offense and DE/LB on Defense. He was Captain at CBA his senior year. His performance on the field helped him to receive several All-Star awards in 2008-2009.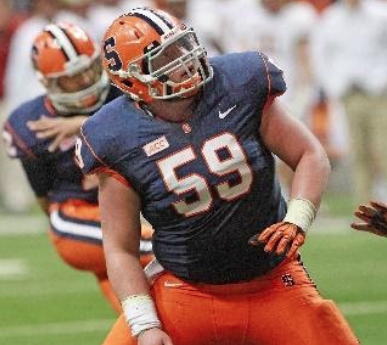 An undersized player at 6'1" 238lbs, he was a two-star recruit who chose SU over Harvard and Boston College. An excellent long snapper and shotgun snapper, he took the starting job at SU as a sophomore. Macky grew from 238lbs to 290lbs under the watchful eyes of his weight training coach Will Hicks. An extremely smart player, teammates called him the offensive leader, and the SU Coaches pointed to him as an example of the ideal combination of attitude, effort, work ethic and academics. A three-year starter at Syracuse, his outstanding leadership and play helped his teams to achieve three bowl wins in four seasons. Macky was Co-Captain at SU his senior year.
A four-year letter winner at SU, he was one of 15 true freshmen to play for SU in 2010. He was the second team center his freshman year. He was an all ACC Second Team Player in 2013. A scouting report mentioned the following in respect to Macky's football abilities; "He displays good flexibility while flashing explosive moves and playing strength necessary to stale mate the nose tackle. Excellent with the shotgun snap, can pull and trap." Macky signed a free agent contract with the Buffalo Bills and was with them pre-season in 2014.
ACADEMIC HONORS:
Two-time Big East All Academic Big East Selection, inducted in the National Football Foundation Honor Society, Capitol One Academic All District Team in 2012 & 2013, he was a member numerous times of Athletic Directors Honor Roll, Magna Cum Laude, and he made the deans list four times during his time at Syracuse.
POST FOOTBALL:
Graduate Assistant Offensive Line Coach at Louisiana Tech from Feb 2015 – Jan 2016. Assistant Offensive Line Coach (Centers and Guards), In charge of film breakdowns, opponent breakdowns, as well as assisting with coaching the OL. He left Louisiana Tech in Feb 2016 to become Offensive Line Graduate Assistant at NC State.
He was offered an opportunity to be an Offensive Line Graduate Assistant at SU and accepted the position in June of 2016. As an Assistant OL Coach, he was in charge of film breakdowns, opponent breakdowns, as well as assisting with coaching the OL and recruiting.
In January of 2018, Macky left Syracuse to follow new Kent State Head Coach Sean Lewis and become the Running Backs Coach. Macky mentioned that his expertise was on the line, but welcomed the opportunity and reached out to present and former running back coaches to achieve the skillset to be successful. He coached at Kent several successful Running Backs in the conference. After the football season, Coach Lewis decided to make a change at the coach position for running backs and let Macky go. Macky is currently looking for a new position in the coaching profession or in applying his great leadership skillset in a private industry. Macky will be a good addition to a coaching staff and/or a private industry. Please contact the SFC to get information on how to contact Macky, and help a former SU great player to build a new career.