PERSONAL:
Born in Philadelphia, PA to parents Ray and Maria. Gerry lives with his wife Peg in Medina, PA. They are the very proud parents of three children, Jerry, Katie and Kelly. Jerry, an all-conference center at Cardinal O'Hara High School played football at the US Naval Academy. Jerry was ranked as a Captain in the Marine Corps. Katie, a 6'2" stand out basketball player was an all-conference player at Scranton College her senior year and helped Scranton College win three divisional titles. She played a year in England and has a Master's Degree in International Human Resources. Kelly is a cardiac critical care nurse at the children's hospital in Seattle, Washington. Gerry graduated from SU with a degree in Marketing.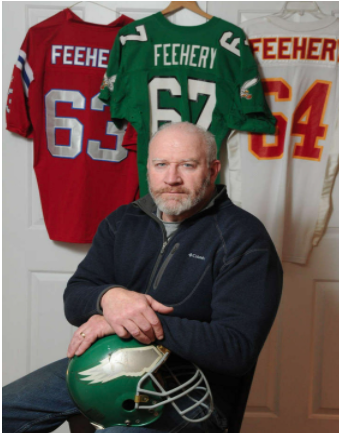 HIGH SCHOOL:
Gerry attended Cardinal O'Hara High School where he was a three-sport athlete and captain in track, basketball and football. Gerry also was a dedicated weight lifter, building his frame up to 6'3" 235 lbs. and played center and defensive tackle. Gerry's head football coach, Bob Ewing called Gerry one of the best high school football players he ever coached. A tough, hard-nosed player, Gerry was highly respected by the other teams and coaches that he played against. He was selected on several all-star teams. Gerry was recruited as a center by SU, Penn State, Tennessee, Miami and the US Naval Academy.
SYRACUSE UNIVERSITY:
Gerry was a four-year football letter winner at SU (1979-1982) and was Captain at SU. His leadership qualities and work ethic at SU brought him an All-East Award his senior year. Gerry played for the SU Orange in the 1979 Independence Bowl Game against McNeese State which SU won, 31-7. Gerry started 33 straight games as Center for the SU Orange. After his senior year, he was awarded the Ben Schwartzwalder Award for the Most Exemplary Player for SU.
PRO FOOTBALL:
Gerry played 7 years as a Center and Guard in the NFL with the Philadelphia Eagles, Kansas City Chiefs and the New England Patriots. He played in 47 games and started 24 games. He was forced to retire from Pro Football due to two serious knee injuries. Gerry mentioned that he received great coaching techniques from his line coach Ken Inman who played 15 years with the Packers and Rams. Ken taught Gerry techniques needed to excel in line play in the Pros which was very different from line play at College level. His weight lifting expertise helped him to get up to 270 lbs. during his career. Gerry was the 1987 NFL Ed Block Award Winner. This award honors players who exemplify commitments to the principals of sportsmanship and courage. The award is unique in the recipients are selected solely by a vote of their teammates. In 1988, Gerry was nominated as the Eagles "Man of the Year". Gerry mentioned that he suffered many concussions during his football career.
AFTER FOOTBALL:
Gerry started a successful maintenance supply business and after 10 years sold his business. He also coached high school football for his Alma Mater, Cardinal O'Hara. Gerry is retired now and has battled CTE issues after leaving Pro Football. His last position was manager of buildings for a Health Services Company. He said they were a great company but wasn't able to advance because of his CTE issues.
Gerry was one of the original seven plaintiffs in a lawsuit against the NFL seeking lifetime medical monitoring for ex NFL players and also contended that the NFL concealed the cumulative effect of multiple concussions for players. The suit has grown to include more than 4000 former NFL players. The NFL has agreed to a settlement clearing the way for payouts to begin for those who have been diagnosed with brain injuries linked to repeated concussions. Because of the original seven plaintiffs in the lawsuit, retired NFL players will receive much needed care and support for the serious neurocognitive injuries they are facing. Also, the NFL has launched new concussion initiatives to improve player safety. The NFL has mentioned that they will have independent neurological consultants on the sidelines during games. For Gerry, the memory loss, headaches, lack of concentration and initial bouts of depression have all been challenges as he gets along in his life. "It may seem like a little thing", Gerry said "those are things that happen every day, I sit there and try to read something, concentrate, and then I start to get bad headaches. I just can't follow through with it, it gets kind of painstaking." The initiative that he and six other former NFL players took, to take on the NFL, has resulted in bringing hope and help to players with CTE.
Post Note:
As a former center, it was an honor to interview Gerry. A man's man, tough, smart, driven and a leader in the trenches when playing football. He is a loyal SU Orangeman who loves to come back to SU to attend football gatherings, chat with fellow SU players and enjoy seeing a game. His positive impact on former NFL players is now in the books. Proud of him as a former SU star football player.
PLEASE VISIT OUR WEBSITE WWW.SYRACUSEFOOTBALLCLUB.COM FOR MORE INFORMATION ON IN THE LOOP!