PERSONAL:
Dave was born in Lehighton, PA. son of Glenn and Jackie. Dave presently lives in the Atlanta area with his wife of 18 years, Leigh. They have 2 children, Alexandra who presently is employed in a dental practice, and Jackson a senior in HS. Jackson plays three sports, basketball, golf and track. Dave received a bachelor's degree in speech communications from SU in 1982 and a master's degree in physical education from SU in 1984.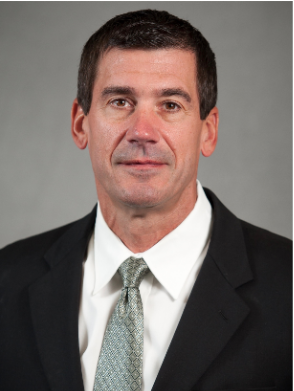 HIGH SCHOOL:
Dave played football for the Lehighton Indians under Coach Jim Wentz. He played QB and Defensive Back. As a senior, Dave completed 81-141 passes for 1257 yards and 17 TD's. He earned an invitation to the prestigious Big 33 game in Hershey his senior year. He was a three sport athlete also playing basketball and baseball. Dave was All League and All State as a senior and was voted MVP his senior year. Dave was recruited by SU, Rutgers, Pitt and BC. Tom Coughlin was SU Coach who recruited Dave and was instrumental in Dave choosing SU over the other schools. Dave mentioned that Father Charles was also instrumental in Dave choosing SU.
SYRACUSE UNIVERSITY:
Dave was a three year letter winner at SU under Coach Frank Maloney 1978-81. At SU, Dave completed 209-415 passes (50.4%) for 2593 yards and 12 TD's. He rushed 342 times for 1139 yards (a 3.3 avg) and 16 TD's. Dave is in the top 10 QB's at SU for season completions. Dave guided SU to an Independence Bowl victory over McNeese State. He was captain for SU in 1980. In 1981, Coach McPherson replaced Frank Maloney and there was a policy that no QB be a captain. He was voted the SU Football MVP in his senior year. His fondest memories at SU were when SU beat a Doug Flutie led BC and upset Top 20 West Virginia U. the last two games of his career. Big wins to end his college career on!
PRO FOOTBALL:
Dave tried unsuccessfully to earn a spot with the Philadelphia Eagles in 1982 and the New Jersey Generals of the World Football League in the spring of 1983.
AFTER FOOTBALL:
Dave has had 36 years as an outstanding college football Coach serving as an offensive coordinator/QB Coach. Dave began his career in coaching as a graduate assistant at SU on the offense in 1982-83. He mentioned that Don Lowe, former SU Trainer, helped him to move on to Kent State as a running back Coach in 1984-85 and quarterbacks Coach in 1986-87 under Coach Glen Mason.

In 1988, Dave followed Coach Mason to Kansas U where he coached for nine years. He then bounced around to different schools for the next decade. During this period, he met and became QB Coach at Cincinnati for Mark Dantonio. When Mark left Cincinnati to be head coach at Michigan State U, Dave followed him to MSU where he spent 13 very productive years as offensive coordinator/QB coach.

Dave directed the most prolific offense in school history in 2014. The Spartans set numerous school records, including points (559), scoring average (43.0 ppg.), offensive touchdowns (70), total offense (6510 yards; 500.8 ypg.) rushing touchdowns (44), rushing yards (3057) and first downs (321).

Dave had been a quarterbacks coach and/or offensive coordinator or passing game coordinator for 30 of his 35 seasons as a college assistant. Three of the five starting quarterbacks Dave has coached at Michigan State are currently playing in the NFL (Brian Hoyer, New England Patriots; Kirk Cousins, Minnesota Vikings; Conner Cook, Detroit Lions), and all three of those QBs have started a game in the NFL Playoffs the last four seasons.

During his time as the co-offensive coordinator, along with Jim Bollman, the Spartans collected a 56-23 record (.709), won two Big Ten Championships (2013, 2015), three bowl games (2014 Rose, 2015 Cotton, 2017 Holiday) and earned a berth in the College Football Playoffs (2015). MSU set numerous offensive team records and placed six players in the All-Big Ten First Team.

He went on to be quarterbacks coach at Kansas (1988-96); quarterbacks coach at Bucknell (1997); passing game coordinator at Wyoming (1998); offensive coordinator at Connecticut (1999-2000); passing game coordinator at Houston (2001-02); wide receivers coach at Southern Miss (2003-04); quarterbacks coach at Cincinnati (2006); quarterbacks coach at Michigan State (2007-2012); offensive coordinator/RB coach at Michigan State (2013-18); quarterbacks coach at Michigan State (2019).

Post Season Experience: Player – 1979 Independence Bowl. Coach – 1992 Aloha Bowl, 1995 Aloha Bowl, 2003 Liberty Bowl, 2004 New Orleans Bowl, 2007 Champs Sports Bowl, 2009 Capital One Bowl, 2010 Valero Alamo Bowl, 2011 Capital One Bowl, 2012 Outback Bowl, 2012 Buffalo Wild Wings Bowl, 2014 Rose Bowl, 2015 Cotton Bowl, 2015 College Football Playoffs (Cotton Bowl), 2017 Holiday Bowl, 2018 Redbox Bowl, 2019 Pinstripe Bowl.

Warner has joined the UTEP Miners as offensive coordinator this year. Head Coach Dana Dimel said this of Dave; "Dave is going to be a great communicator for our offense and QB's. He brings a ton of experience to our football program as an Offensive Coordinator. He did a great job at Michigan State for so many years and was a huge help in our time together coaching at previous stops. He will be a great addition to our staff helping progress the program to where we want it to be."
FINAL THOUGHTS:
Dave mentioned that he is looking forward to the day he can come back to SU to catch up with his teammates, play some golf and attend an SU game. As a Quarterback Coach/Offensive Coordinator for 30 of 35 years as a College Assistant, he has represented the SU Football Alumni success story very well! Congratulations Coach on your dedication to developing young men into great football players. Your legacy in their minds will stay with them throughout their lives.
PLEASE VISIT OUR WEBSITE WWW.SYRACUSEFOOTBALLCLUB.COM FOR MORE INFORMATION ON IN THE LOOP!